If you are a returning student the card that you have should still work. If you have problems with it, your card may need to be updated. Instructions on how to do this can be found by clicking on the button below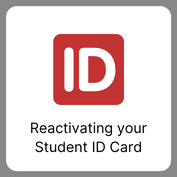 If you are a new student, and have uploaded a photo to your online portal, your student ID card will be issued to you once you have finalised your registration.
Collect from the Student Card Collection Desk in the Student Breakout Area (HU 0.70) which is next to the Coffee Shop on:
Monday 26 September – 09:00-16:00
Tuesday 27 September – 09:00-13:00
Collect from the Student Advice Centre from Wednesday 28 September
If you have not uploaded a photo, you will not receive a card until you do You will need to send an email (containing the items listed below) to: smartcards@dmu.ac.uk

*Your photo
*Your Student (P) Number
*Your full name
*Your Date of Birth
*Your current term time address
Please note that your ID card picture should be a passport style photograph, and should only include yourself.
If this has not answered your query please contact us and a member of the team will look into this and resolve it for you as quickly as possible.